Vegetarianism
By Anita Sabot - Thu Dec 08, 12:06 pm

Learn how to eat vegetarian by browsing course materials at your own pace. With the CD offered at MyVegetarianWorld.com you are guaranteed to learn the basics of the vegetarian lifestyle.
Materials in the Learn section of the Introduction to Vegetarianism CD include: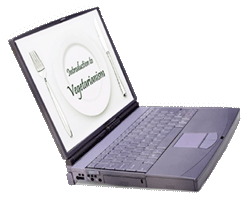 Narrated Presentation

 – Watch the twenty minutefull color presentation narrated by curriculum author, Anita Sabot. Thepresentation clearly details the six main reasons people become vegetarian. It also provides detailed nutritional information, courtesy of Brenda Davis, R.D., author of Becoming Vegetarian.
Presentation Outline

 – A printable outline of the presentation makes later review of the presentation information a breeze.

Vegetarian Food Guide

 – Printable full color American and Canadian versions of the Vegetarian Food Guide make a handy visual reminder of a better way to eat. The back page of the food guide gives more excellent information adapted from Becoming Vegetarian, including serving sizes for each food category.

Recipes

 – The recipe sheets are filled with great starter recipes that are easy to follow and taste fantastic!